Home » Blog » Dani Didg & Robert Castillo
Dani Didg & Robert Castillo
Robert Castillo
Robert Castillo is a prolific musician, painter, sculptor, visual artist, and good friend. His paintings bear captivating emotion and have an almost tactile quality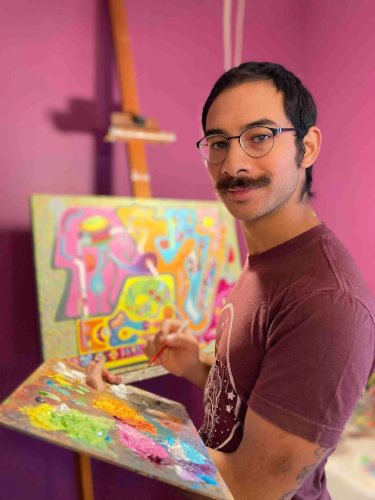 Robert in the studio, at work on his painting 'Two Lines'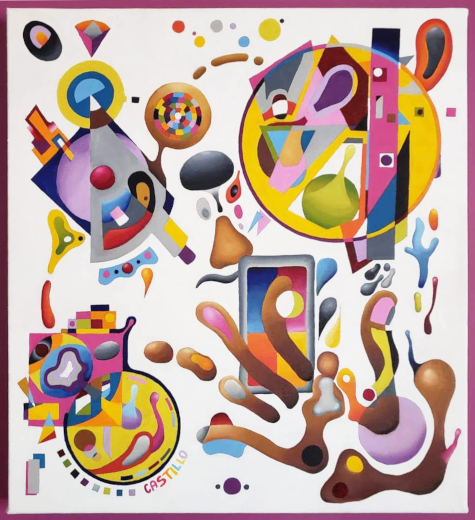 '#socialdistancing,' painted in 2020, conveys the spirit of an era with synesthetic appeal
As a musician, Robert has a foot in several streams. Landing at times in Jazz, Hip Hop, Electronica, and Classical music, perhaps the only commonalities in all his works are a penchant for experimentation and an undeniable love of the art
He's also the designer of the logo used on this website, and he's been an enthusiastic early adopter of the Audiopile app, constantly finding bugs and suggesting new features. Currently, Robert is in the process of relocating to Spain to further his artistic career in the galleries of Europe
In Mexico
We caught up with Robert for a quick call to talk about one of his recent musical projects, Contempo​é​tnico, a collaboration with Dani Didg, a musician, historian, and amateur archaeologist from Mexico City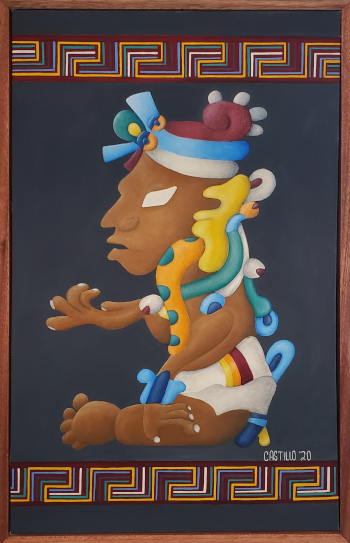 'Mayan Reverence' - 2020
As a first generation American, Robert has always kept his heritage close to his heart. In April 2021 he brought his heart back to the land of his forbears, visiting Mexico with his father to re-connect with family and culture
Roberto Castillo the Senior moved from Mexico to the United States before the birth of his son. He grew up in the Yucatán Peninsula and is a native speaker of the Maya language. During their Mexico trip, Robert Jr. was browsing the web researching traditional musical instruments when he discovered Dani Didg's instragram page filled with photographs of the hompax and other traditional Maya instruments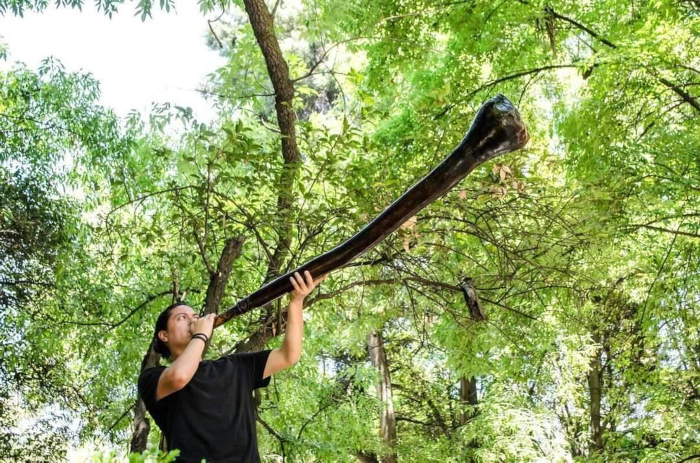 The hompax is a traditional musical instrument of Maya culture
What is a hompax?
The hompax is a traditional Maya wind instrument. To make a hompax, you start with the stalk of the agave plant. The stalk is cut in half longways and the pith inside is hollowed out. Once it is all clean, the two halves are brought together like a sandwich, glued in place, and fashioned into a long tube - the hompax. Once completed, the instrument resembles the Australian didgeridoo. As with the didgeridoo, hompax players use circular breathing, simultaneously breathing in through the nose and out through the mouth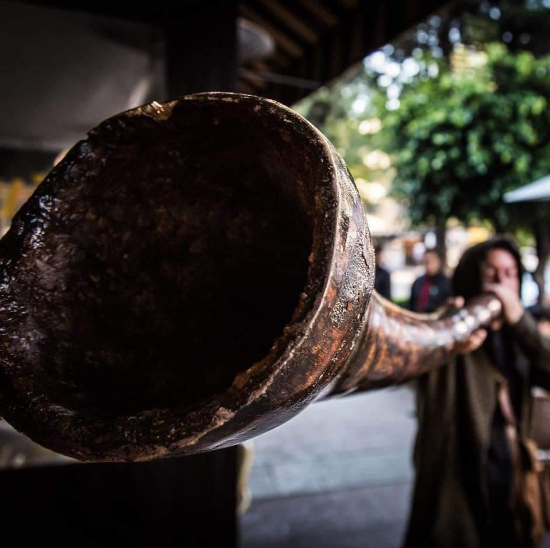 Similar to a didgeridoo, a hompax is made from hollowed-out plant material
After the Spanish conquests, the Catholic church suppressed expression of Maya culture, censoring the use of Maya language, religion, and the music of the hompax. They associated the hompax with the devil and claimed it was used in demonic ceremonies. On the contrary, the hompax is traditionally used as an instrument of healing and connection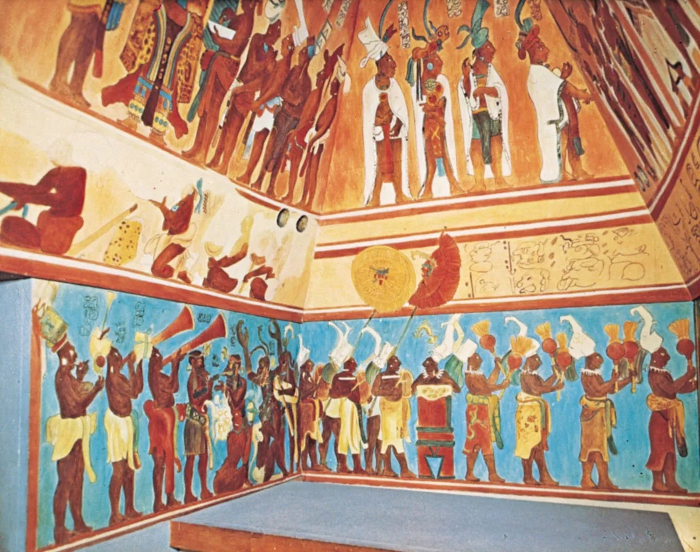 The hompax is shown being played in the murals of Bonampak, an ancient Maya archaeological site in present-day Mexico, close to the border with Guatemala
It was this association with traditional healing and connection that drew Rafael Bejarano, one of the first people to play hompax in modern times, to the instrument. In Maya culture, hompax is associated with the feathered serpent deity Kukulcán. In this way it is also similar to the didgeridoo, which has associations with the Aboriginal Rainbow Serpent deity. Mindful of this connection, Rafael sought out Aboriginal holy men to learn more about their traditions and instruments. He dedicated himself to keeping these traditions alive and traveling the world to learn more about ancestral cultures
It was in Egypt that Rafael's temporal journey came to a close. While on a trip to learn about ancient Egyptian traditions around music and healing, Rafael's caravan was mistakenly fired upon by military forces. Rafael's life was among those lost in the attack. After his death, some of the hompaxes he had made were given to Dani Didg, galvanizing Dani's drive to support the revival of the instrument
Dani Didg
Dani's first song with the hompax is called "Fiesta Maya." His first performance was in 2011, in a mall courtyard surrounded by three restaurants where local musicians shared their songs. He approached the proprietor of the space with a hompax 1.8 meters long and asked to play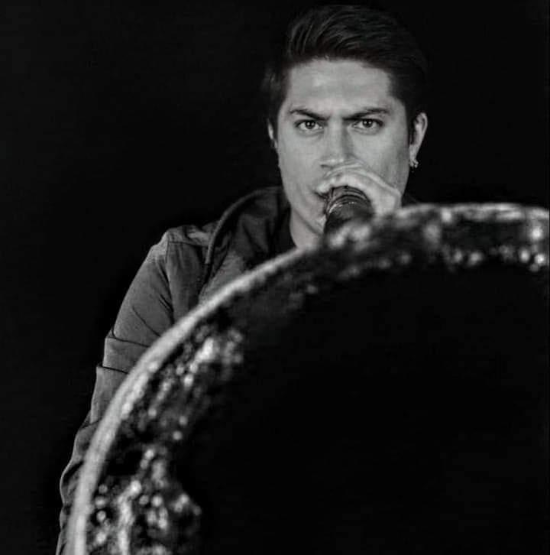 Dani plays the hompax to promote human connection
Surprised by such an enthusiastic artist with such a cumbersome instrument, the proprietor invited Dani to share what he had. Over the next four minutes a crowd slowly gathered around him. Shoppers, workers, folks going about their day all stopped what they were doing and stood enchanted by the ancient sounds, enthusiastically applauding as the music faded
Encouraged by this reception, Dani went on to write "Venus Elíptica" and "Espirales," his next two songs, and perform them wherever he could. Soon, he drew the attention of Silvio M, an independent music producer. Silvio was also touched by the spirit of the hompax and approached Dani to ask if he could produce his music and share it with the world. The fruit of their work together was Dani's first Contempoétnico album
CONTEMPOÉTNICO
Contempoétnico is both the name of Dani's albums and the genre of music it contains
As a genre, contempoétnico brings together ancient sounds of traditional instruments with modern electronica to produce contemporary music with the soul of old traditions. As an album series, Contempoétnico brings together musicians from different scenes to produce sublime music, first with Dani's group Sonidos Encantados and now with Dani and Robert's collaboration
To make his album with Robert, Dani started by crafting soundscapes of the life around him, recording sounds of the streets and markets across Coayacán. Then he recorded himself playing hompax and another traditional instrument known as a guaje or bule, made from a gourd and used as a shaker or rainstick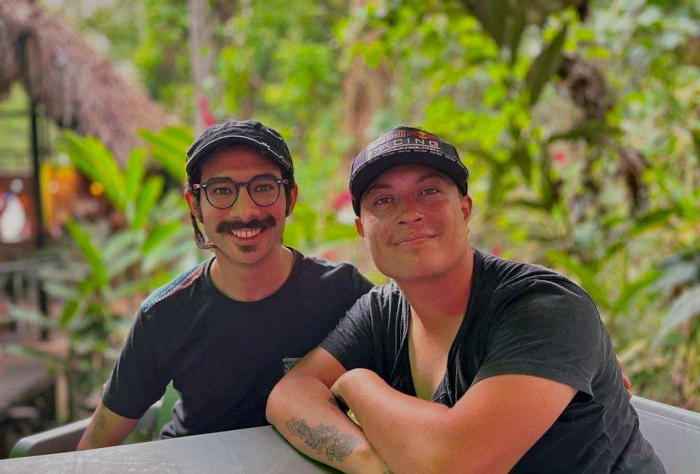 Robert and Dani bring together their unique styles to make Contempoétnico
Dani sent these tracks to Robert, who added live and electronic instruments. Since Dani's tracks were recorded naturally, without the click track that gives most modern recordings a steady tempo, Robert through composed and fluidly performed his tracks to match Dani's dynamic fluctuations in tempo, intensity, and pitch
While making this music, Robert was also working on an oil portrait of his father and asked him if he would like to be involved with the album. Robert Sr. contributed a poem, written and delivered in his native Maya, dedicated to his brother who had recently died of COVID complications. This poem became the track "Dz'ibil Tialin Sukuùn Elias," which translates to "Letter to my late brother Elias"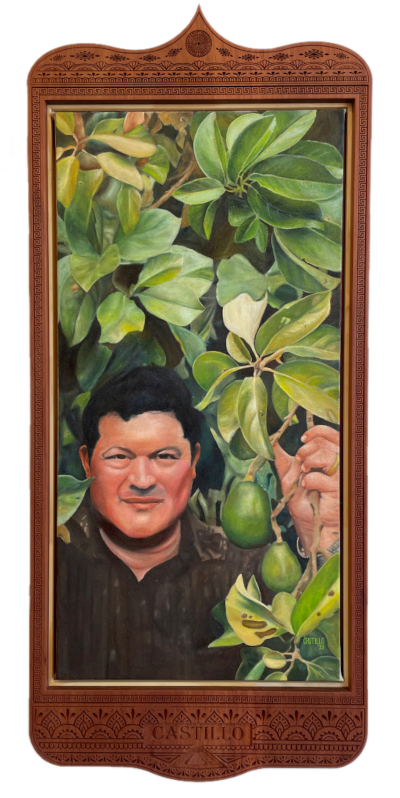 Castillo's 'Portrait Of My Father'
Maya
Ts'íib ti in sukum Elías kimen
Bíinech ti' le yóok'ol kaaba má ta wáalaj ti a láak'o'ob wata bin
Ta p'ataj jump'éel nojoch joel tu puksi'ik'al yáabach máako'ob
Bejláe tuux yáaneché in wóojlé le kaano a wotoch tuux ka jéelel
Le kíimilo' beyli'ó ma a wóojel ba'ax k'ini séeba'an bey yúuchul le kuxtalo'
Beyli'ó jat'uts kíichpam séeba'an
A chéejé u malo'ob láak'ínaj yum kuj
A wúutsile' u jéek'apajil le ka'ano'
A paakate' letí'e júul ku sáaskuntik le éek'joche'eniló
Jéesaba' ichil le kíibok sak' lolo'obo' in k'atxan ka a wóojelte'
Le ken áabilchake' kin wí'ilik le éek'o'obo'
Ti kin k'askechi'
Kin wúuyik u yáatal in puksi'ik'ali
Paat ka k'uuchko'on láak'intech tumen éesa'anto'one'
Le kuxtala' séeb u máan
Ba'ale' u bo'oli kun ts'oko'ok
Le kuxtala' mina'an u xúul
Ki'ki' óoltaba yéetel u láak'inaj kí'ich kelen yum
Má tu xáantal yáank ka múuch ku'ubaj tu laj'
In yáakumech sukum Elias
Jach t'ats' tin k'a'askech yéetel u k'íiman in puksi'ik'ali
Yéetel tux xí'imbajano'on
In yakumech sukum Elias
A la'ak' Roberto Castillo
English
You left this world without saying goodbye to your siblings, leaving an immense emptiness in the heart of many people.
Today from where you are, I know that the sky is your eternal home. Death is like that, untimely, spontaneous, life is exactly like that, beautiful, graceful, rapid.
Rest amidst the essence of the white flowers.
I'd also like you to know, that at dusk I look at the stars and remember you, I feel a great pain in my heart. Wait for us to be in company together, because this has shown that life passes quickly.
But the reward after this life is infinite…
Feel joy about being in the company of God.
In some time not far away we'll be be reunited again.
I love you my brother Elias, I'll always remember you with pain in my heart and in the places where we've walked.
I love you brother Elias.
Your brother Roberto Castillo.
Español
Te fuiste de este mundo sin decir adiós a tus hermanos, dejando un vacío inmenso en el corazón de muchas personas.
Hoy desde donde estés, sé que el cielo es tu morada eterna. La muerte es así, intempestiva, espontánea, certera. La vida es así, bella, hermosa, rápida.
Descansa en medio de la esencia de las flores blancas. También quiero que sepas que al anochecer miro las estrellas, ahí te recuerdo, siento un gran dolor en mi corazón. Espera a que lleguemos hacerte compañía, porque está demostrado que la vida pasa rápido.
Pero la recompensa después de esta vida es infinita…
Siéntete alegre porque estás en compañía de Dios.
En un tiempo no muy lejano nos volveremos a juntar otra vez. Te amo hermano Elias, siempre te recuerdo con dolor en mi corazón y en los lugares que hemos caminado.
Te amo hermano Elias.
Tu hermano Roberto Castillo.
Ts'íib ti in sukum Elías kimen
Bíinech ti' le yóok'ol kaaba má ta wáalaj ti a láak'o'ob wata bin
Ta p'ataj jump'éel nojoch joel tu puksi'ik'al yáabach máako'ob
Bejláe tuux yáaneché in wóojlé le kaano a wotoch tuux ka jéelel
Le kíimilo' beyli'ó ma a wóojel ba'ax k'ini séeba'an bey yúuchul le kuxtalo'
Beyli'ó jat'uts kíichpam séeba'an
A chéejé u malo'ob láak'ínaj yum kuj
A wúutsile' u jéek'apajil le ka'ano'
A paakate' letí'e júul ku sáaskuntik le éek'joche'eniló
Jéesaba' ichil le kíibok sak' lolo'obo' in k'atxan ka a wóojelte'
Le ken áabilchake' kin wí'ilik le éek'o'obo'
Ti kin k'askechi'
Kin wúuyik u yáatal in puksi'ik'ali
Paat ka k'uuchko'on láak'intech tumen éesa'anto'one'
Le kuxtala' séeb u máan
Ba'ale' u bo'oli kun ts'oko'ok
Le kuxtala' mina'an u xúul
Ki'ki' óoltaba yéetel u láak'inaj kí'ich kelen yum
Má tu xáantal yáank ka múuch ku'ubaj tu laj'
In yáakumech sukum Elias
Jach t'ats' tin k'a'askech yéetel u k'íiman in puksi'ik'ali
Yéetel tux xí'imbajano'on
In yakumech sukum Elias
A la'ak' Roberto Castillo
Full album on Bandcamp:
Follow